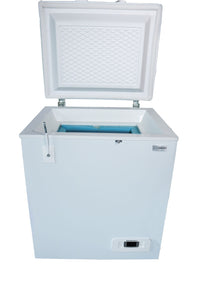 The TempArmour Vaccine Refrigerator (Model BFRV36) virtually eliminates vaccine losses by solving the common issues of vaccine refrigeration.
Stays within temperature range for 4 days during a power outage, if unplugged, or stops operating for any reason
Stays within temperature range for several minutes when its door is opened which allows for easy and careful access of vaccines, reducing user error
Consistent temperature throughout - vaccines can be placed with confidence anywhere in the refrigerator - including on the bottom and next to the sides
Avoids common freezing issues - the TempArmour Refrigerator design & technology does not require vents and fans to maintain its temperature. Cold air from vents and fans are sometimes the cause of vaccines becoming too cold. 

The TempArmour Refrigerator door always shuts properly. This avoids "door ajar" one of the most common causes of vaccine losses
Find out more at www.TempArmour.com 

Request a quote with shipping

All orders are reviewed prior to processing credit card payments. In the event shipping costs need adjustment, other shipping options are available, or further shipping details are required, you will be contacted prior to your payment being processed to authorize any changes (primarily applicable to larger orders, or shipments of appliances). 

Don't hesitate to contact us at 1 866 485-4199 with any questions or to order by phone.